Setting up your home network takes a few steps:
You will need the name and password for your network. These are found on the bottom of your modem (sometimes they are called SSID and Key.)
The Smart RG modem has two wireless bands: 2.4GHz and 5GHz.
(Each band has a separate default name and password.)
2.4GHz band is best for stationary devices that need consistent ongoing connections, for example, a router. It also has the widest range throughout your home.
Some devices give you the option to use a 5GHz band which is a faster speed but has a smaller range.
Changing the network name and password
We suggest protecting your home network with a password.
1. Using Chrome or Firefox, open your browser and go to 192.168.0.1/admin
2. Click on Managed Gateway (advanced).
3. Login using the username admin. Your password is the last 4 digits of the MAC and the last 4 digits of the S/N found at the bottom of your modem.
4. To change the network name and password for the 2.4 GHz band:
On the top menu, select Wireless.
On the left menu, select Radio >> Wireless Interface >> 2.4 GHz.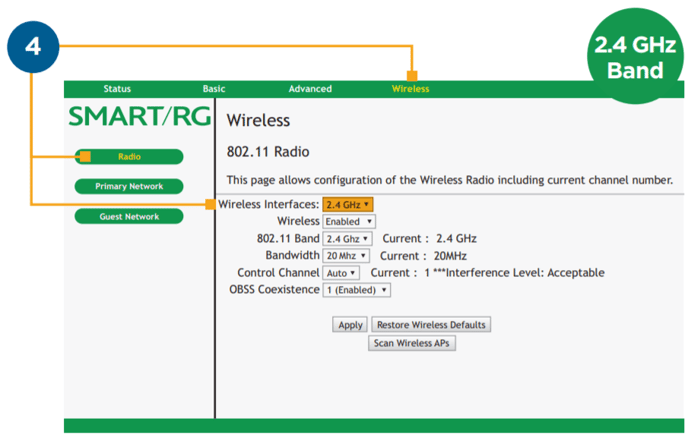 5. Click Primary Network.
6. Go to Network Name (SSID), enter an easy-to-remember name, and then enter an easy-to-remember password (at least 8 characters) into WPA Pre-Shared Key.
7. Be sure AES is selected in WPA Encryption and click Apply to save your changes.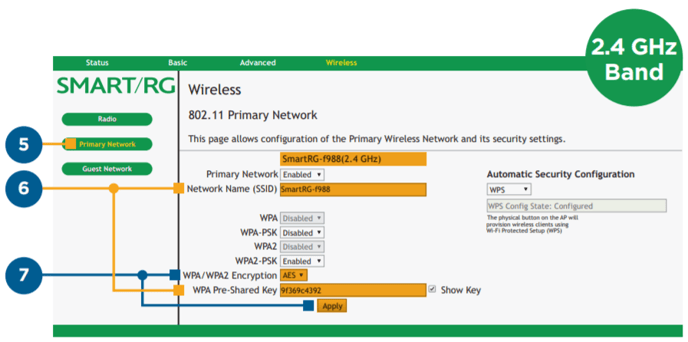 Repeat these steps for the 5 GHz band, and you're all set!
Adding a wireless device to your home Wi-Fi network
Make sure the wireless setting is turned on. This is usually in settings or preferences on your device. You should see a list of all wireless networks within range. Click on the network name you created and then enter your password.