It's important to keep your address up to date in your account information. That way, in case of an emergency, help will be sent to the right location.
Here's how to change your address:
Log into MyAccount.

Click on Update your 911 address.

Fill in your contact information: your name, email, phone, and Distributel account number.

Enter your new address and the date it is effective.

Double check your information is correct and click Submit.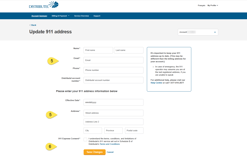 Need help? Connect with one of our Customer Advocates here.